DEFINING MOMENTS ANNOUNCED
The "Defining Moments" in our history can now be announced. A reader poll has come up with a list of "events that have defined and shaped us." Below are the great moments Moenui residents rate most highly. They are not listed in any particular order.
1807 First Christian Church Service in the area prompts Maori to begin the Moenui tradition of "bringing a plate."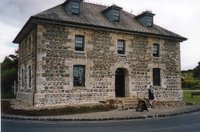 1832 Stone Store Built – 150 years on the name inspires the famous "Stoned Store," a trading depot established by horticulturists near Moenui.
1840 Treaty of Waitangi is Signed. 160 years later a complaint by Moenui hapu to "Fair Go" confirms that they were ripped-off.
Presenter Kevin Milne fails to get any apology from the family of William Hobson.
Kevin Milne
1905 All Blacks Tour. Local rugby player and farmer Dave Gallagher tells his wife he is going fishing, disappears for six months, and returns as Moenui's greatest son shortly after the victorious AllBlacks arrive back in Godzone. Not until 1917, when the death of All Black captain David Gallagher is reported from Flanders, do rumours resurface that Dave "the Dog" Gallagher spent most of 1905 living with a school mistress in the Meka Valley.
1929-35 "The Great Depression." This is a name given to a body of work by Moenui's most famous painter Colin Mikaho. The bleak and sentmental works are sometimes called "Col's Blue Period."
1951 Waterfront Strike – name given to the celebrated occasion when Jack Barnes bought the winning Tatts ticket from a bloke on the Moenui jetty.
Excited locals greet Jack as he arrives to make his big "collect" at The Lucky Barber and Tobacconist.

1951 NZ Legislative Council is abolished prompting days of drunken celebration in Moenui when residents mistakenly think central government has been abandoned.
1956 Peter Jones scores the winning try against the touring Boks. Local hero Jones' comment, "I'm absolutely buggered," to a local radio announcer results in him being barred from Moenui Masonic Hotel because of suspicions he is a homosexual.
1963 Introduction of Oral Contraception
completely bypasses Moenui

1967 End of Free School Milk. Absenteeism at local schools declines sharply
1975 Treaty of Waitangi Act brings a string of claims for redress. In the most recent case Moenui market gardener Leung "the Lettuce" Lee is awarded several hundred acres of crown land when he convinces the court that ancestor Zheng He landed his junk at Moenui in 1432
1975 Dawn Raids on "Overstayers" draw initial support in Moenui until it is revealed that visiting relatives do not necessarily qualify as overstayers.
1981 Underarm Bowling Incident. Aussie visitor Trev Chappell shocks locals by bowling underarm in the Moenui and District Lawn Bowls Championship. It takes only a few years for local bowlers to abandon the overarm technique and local greens improve markedly.
An Artists impression of Trevor's famous bowl
1984 Nuclear Ships Are Banned from Moenui harbour. Nuclear powered spaceships are specifically excluded from the ban after submissions from the Moenui Astronomical Society.
1985 The Adult Adoption Information Act passed. 13 percent of residents discover they are married to siblings.
1987 Market Crash. A runaway school bus crashes into the Southbank Craft Market
destroying years of preserves and some valuable macramé. The local economy takes years to recover.

1997 The Ingham Twins are given"freedom of the township" when they make a surprise visit to Moenui after a Russian cargo ship runs aground on the Moenui Bar.
The Kiwi Herald suggets you check out results of the nation-wide survey:
http://www.radionz.co.nz/definingmoments